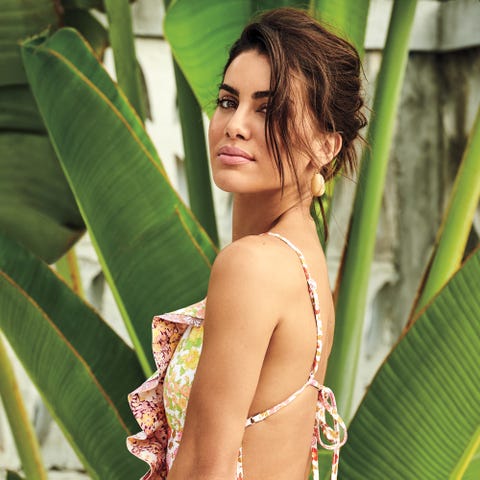 Camila Coelho rose to internet fame on a trail of to-die-for makeup looks that she regularly creates for her fans on YouTube. Hundreds of videos (and millions of views) later, she's firmly established herself among the top vloggers in the industry. Here, she's revealing her secrets to looking gorgeous all summer—plus, the products she always has in her purse and makeup bag for quick beach trips.
What's your top summer skincare tip?
"You should keep your skin hydrated, especially at night, in order to control the oils during the day and prevent unwanted acne. So I encourage everyone to keep doing their full skin care routine—come on babes!"
What's your secret for making your makeup last when it's hot outside?
"Primer! I always have my Dior Backstage Face & Body Primer with me on trips because it keeps my foundation in place and helps even the texture of my skin. I also like to carry a beauty elixir water in my bag, which I'll spray throughout the day to keep my skin refreshed without looking oily."
Never used this primer before? Here's the download: It gives your complexion a radiant blur while hydrating, plumping, and still keeping the skin's finish totally matte.
What's always in your beach bag?
"Elta MD face sunscreen to protect my face, Dior Bronze After-Sun Care to keep my skin hydrated and provide a longer-lasting tan, sunglasses, a chic hat to cover my face from the sun, and a face mist to keep my skin hydrated."
What's your favorite type of beauty tutorial to film for your YouTube channel?
"I love filming a celebrity red carpet-inspired tutorial. My followers love it, and I have so much fun trying to recreate each look."
If you could only wear one beauty look all summer long, what would it be and why?
"I instantly gravitate towards bronzed glow-y skin with peachy lips and bare eyes finished with just mascara!"
Where is the weirdest place you've ever had to do your makeup?
"With a crazy agenda and having to run around all the time, I've had many wild makeup moments! There have been times where you'd see me doing my makeup in moving cars, airplanes, and even backstage at an event I was hosting."
What's your strategy for packing a makeup bag for summer travel?
"Bring the basics. You can never go wrong by packing the products that will keep your skin looking fresh and beach-y during your travels."
What are your absolute favorite products for summer?
"A go-to BB cream. This will give you a natural coverage while protecting your skin from the sun. I love the Missha M Perfect Cover BB Cream."
"A good primer! This will not only sustain your makeup look all day long during the hot summer temperatures, but a great primer will also help with texture. I'm obsessed with Dior's Backstage Face & Body Primer."
"An amazing bronzer. I like one that gives you a sun-kissed glow."
"Waterproof mascara. I love the Dior Diorshow Waterproof Mascara. It's one of my all-time favorites. It comes in a waterproof formula that's perfect when diving into the pool or ocean."
"Lip tint. Everyone should have some form of lip tint in their suitcase, and my favorites include the Benefit Benetint and the Dior Addict Lip Tattoo."
["source=cosmopolitan"]